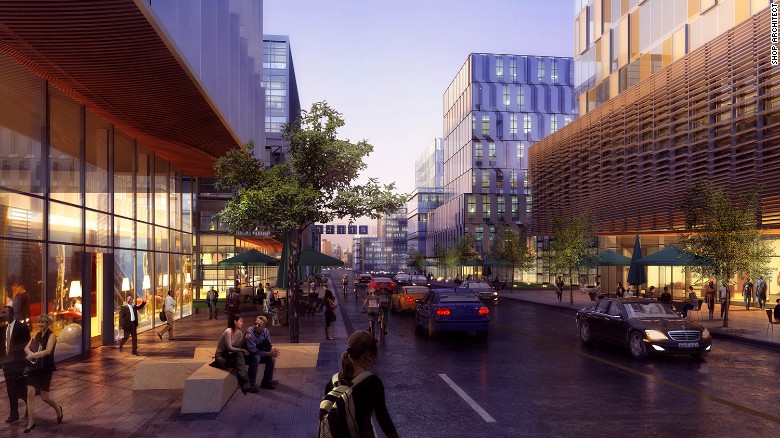 By 2020, Africa is likely to be the fastest urbanizing continent in the world. It is currently the most rural — only 40% of sub-Saharan Africa's population live in cities. Even the sprawling heartlands of Lagos, Kinshasa and Cairo, teeming with traffic, pollution, inadequate housing and public spaces, are in their relative infancy and destined for a growth spurt.
How will Africa cope with booming urban populations?
One idea gaining traction is newly developed satellite "smart cities:" ambitious multi-billion dollar, hyper-livable tech cities populated with bustling, beautified boulevards, private condos and luxury cars.
The concept is exemplified by Eko Atlantic in Lagos, Nigeria, built on land reclaimed from the sea, which is expected to house 250,000 people once completed. Hope City in Ghana is slated to feature the continent's tallest skyscraper, although it is yet to get off the ground.
Countries across Africa are putting "smart cities" on their agendas. In June the 
Nigerian Smart Cities Initiative
 was launched to encourage the integration of ICT innovations into urban infrastructure. Rwanda, a regional leader in developing "smart cities," published a 
Smart Cities Blueprint
 in May to help foster the use of technology in urban management.
The continent needs to find ways of improving urban life. Will these eye-catching projects prove to be white elephants, offering solutions for only a lucky few who can afford them?
The terms 
"smart cities"
 relates to the use of ICT to improve quality of life and city services. "Smart cities" also aim to be sustainable cities. They develop with respect to the economic, social and environmental needs of the present and the future.
A "smart city" encompasses everything from public spaces with free Wi-Fi, to solar-powered street lights and — as in Addis Ababa — 
automated-lift 
car parks that reduce the space needed for cars.
Proponents view Africa's young, tech-savvy, population as willing adopters of tech solutions to urban problems.
Urban horizons
While supporters of "smart cities" advocate the upscaling of existing urban centers with technologies, the most expensive, striking examples are new landmark locations built entirely from scratch.
Often built on the peripheries of overpopulated cities, these modern developments are funded by a mix of private and public organizations
For more: