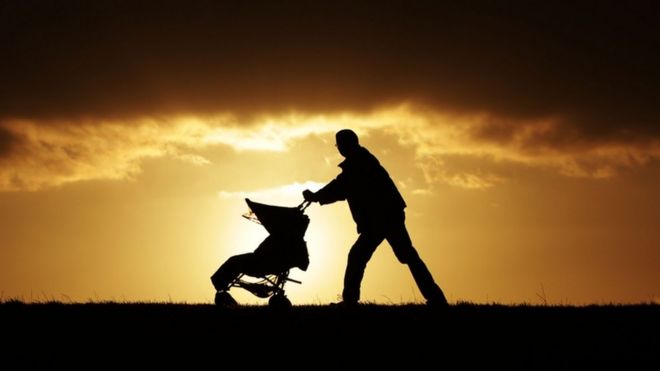 Nearly half of working fathers would like a less stressful job so they can spend more time caring for their children, a study has found.
About a third would take a pay cut to achieve a better work-life balance, the charity Working Families said.
Employers are not doing enough to help dads take a more active role in childcare, it added.
MPs are due to open an inquiry into whether fathers are losing out in the workplace.
Of the 2,750 parents surveyed, a third of fathers said they regularly felt burnt out, and one in five were working extra hours, according to the Modern Families Index report.
Working fathers get 'wage bonus'
Work-life balance: What does it mean for men?
Do men get paid more than women?
Six ways to tackle the gender pay gap
"For many fathers the workplace is unsupportive of their aspirations for a better work-life fit," said the charity.
It runs the risk of creating a "fatherhood penalty", where fathers are willing to follow a career that is below their skill set and reduce their earnings, it added.
It would be similar to the "motherhood penalty", which gender equality charity, the Fawcett Society, identified as being one of the core causes of the disparity in pay between men and women
For More: http://www.bbc.com/news/business-38607682?ocid=socialflow_facebook&ns_mchannel=social&ns_campaign=bbcnews&ns_source=facebook