Melbourne woman Jessica* is still struggling to come to terms with the debilitating impact of being on antipsychotic medications for long periods. She started taking them from her early 30s, when she was diagnosed with schizophrenia and placed into various public mental health institutions.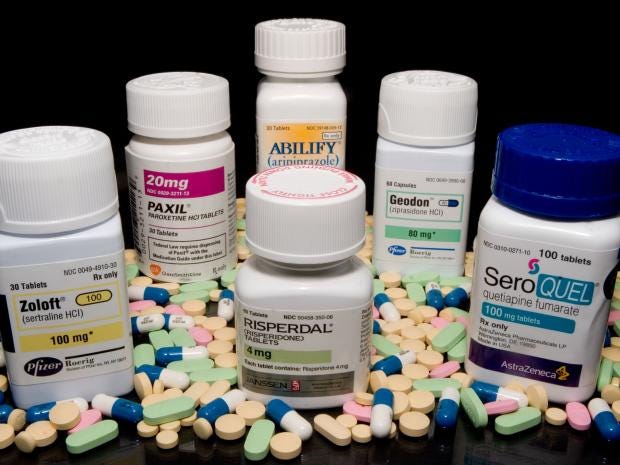 "In the very early days I was incredibly frightened, because no-one expects to end up in a psych hospital," Jessica said.
She said it was made worse because the medications made her feel like she was being dumbed down
"I'm not sure people understand what it's like to take a medication that makes you feel like you've lost your intellect, but know it's still in there and can't get out," Jessica said.
"Sometimes I talk about walking through water. And how we all know that if we're in water in a pool or beach, we can still walk, but it's really hard to do. And that's what thinking is like on antipsychotics."
Jessica said the physical impacts have been long-lasting as well and she was angry about often being forced to take the medication.
"Because I have had these medications for many years and because [I] had the weight gain that's common with them, I'm more likely than not to die much younger. Probably 15-20 years younger than my other friends," Jessica said.
"I often think, what does it mean to not have even been told that? To not have the chance to have done something to protect myself from that? And what does it mean that a lot of those medications were forced on me?"
Australia uses antipsychotics 'at extremely high rate'
Jessica's experience is not unique.
Figures from the Australian Institute of Health and Welfare show prescriptions for antipsychotic drugs under the Pharmaceutical Benefits Scheme (PBS) increased by 359 per cent over a 24-year period from 1992 to 2016.
Antipsychotic drugs were developed in the 1950s to treat serious mental health conditions including schizophrenia, bipolar disorder and psychosis.
They aim to reduce hallucinations, delusions, paranoia or confused thoughts, but also work as a major sedative or tranquiliser.
Brisbane psychiatrist Niall McLaren sometimes prescribes antipsychotic drugs, but he is also very cautious and says they are being used illiberally.
"We know that Australia uses antipsychotics at an extremely high rate by international standards," Dr McLaren said.
"The overuse of antipsychotics is a major problem in this country, it will be a bigger problem because these drugs have long-term side effects.
"People that take it in the long term, will die 19 years younger than un-drugged peers."
It is a scary reality for some people who take the medication.
Perth mother Angela* says she still has to look after the very basic needs of her 42-year-old son because of the damaging impacts of his antipsychotic medication.
Not only does he require 24-hour surveillance and help with basic hygiene, but he also suffers from neurological disorders — akathisia and tardive dyskinesia — which are common side effects of these drugs.
"Probably the worst thing with respect to my son, apart from his physical size, is that he experiences psychosis 24 hours a day. It has a devastating impact on himself, it infiltrates his every waking minute," Angela said.
She has become a mental health advocate and is trying to educate consumers (people who are in the mental health system) about the side-effects of these medications.
"I'd also like to see drug-free wards, where people, when they first present, get respite with talking therapies. That happens in Scandinavia, but there's no such thing here in Western Australia or in Australia," Angela said.
For More: http://www.abc.net.au/news/2017-12-27/antipsychotic-drugs-restraints-and-seclusion-in-mental-health/9286208?sf177545573=1