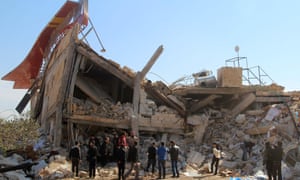 Russia's flat denials of responsibility for the lethal bombing of hospitals and schools in Syria cut no ice in Ankara. Senior Turkish officials say Vladimir Putin and his Syrian allies are shamelessly using increased refugee outflows resulting from these and similar attacks as a weapon of war – one that is deliberately aimed at Turkey and Europe.
Dmitri Peskov, the Kremlin spokesman, categorically rejected claims by Turkeyand other countries that Russian forces, acting in support of Bashar al-Assad's regime and Syrian Kurd militias, had committed war crimes in mounting Monday's strikes, which killed about 50 people. "Those who make such statements are not capable of backing them up with proof," Peskov said.
Reacting to Moscow's denials and its decision to seek UN security council condemnation of Turkey's cross-border shelling, Ahmet Davutoğlu, Turkey's prime minister, said Russia's behaviour was "shameless" and "insolent". Turkey would not allow a new influx of refugees from northern Syria, he said, and would take "every step necessary" to prevent such an eventuality.
"If Russia continues behaving like a terrorist organisation and forcing civilians to flee, we will deliver an extremely decisive response," Davutoğlu told parliament. "Those vile, cruel and barbaric [Russian] planes have made close to 8,000 sorties since 30 September without any discrimination between civilians and soldiers, or children and the elderly."
More than 50,000 people have been displaced by recent fighting around Aleppo. Turkey is increasingly concerned by territorial gains by militia fighters of the Syrian Kurd Democratic Union party (PYD), whom it regards as terrorists and mercenaries in league with Moscow. The Kurdish advances, including seizure of the important Menagh air base, were supported by Russian airstrikes. Turkey responded by shelling Syrian Kurd positions.
Excerpts from a report by Turkey's security services, published on Tuesday inHurriyet newspaper, highlighted Turkish suspicions that Russia was purposefully attempting to "weaponise" the refugee crisis
For More: http://www.theguardian.com/world/2016/feb/16/refugees-are-becoming-russias-weapon-of-choice-in-syria?CMP=fb_gu