US Secretary of State John Kerry has said the prospect of an Israeli-Palestinian peace deal based on a two-state solution is in grave jeopardy.
And he insisted UN condemnation of illegal Jewish settlements on occupied land was in line with American values.
Israel's PM said Mr Kerry's speech was "obsessively focused" on settlements.
Earlier, US President-elect Donald Trump tweeted in support of Israel, saying he would not allow it to be treated with "disdain and disrespect".
He urged Israel to "stay strong" until he assumed office next month
On Friday, the US chose not to veto a UN Security Council resolution calling for an end to Israeli settlement construction, leading to an angry response from Israel.
The issue of Jewish settlements is one of the most contentious between Israel and the Palestinians, who see them as an obstacle to peace and the creation of a viable Palestinian state.
More than 500,000 Jews live in about 140 settlements built since Israel's 1967 occupation of the West Bank and East Jerusalem. The settlements are considered illegal under international law, though Israel disputes this.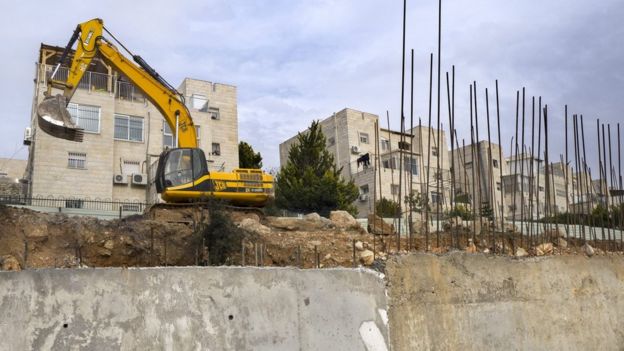 What is the two-state solution?
A "two-state solution" to the decades-old conflict between Israelis and Palestinians is the declared goal of their leaders and many international diplomats and politicians.
It is the shorthand for a final settlement that would see the creation of an independent state of Palestine within pre-1967 ceasefire lines in the West Bank, Gaza Strip and East Jerusalem, living peacefully alongside Israel.
The United Nations, the Arab League, the European Union, Russia and the United States routinely restate their commitment to the concept.