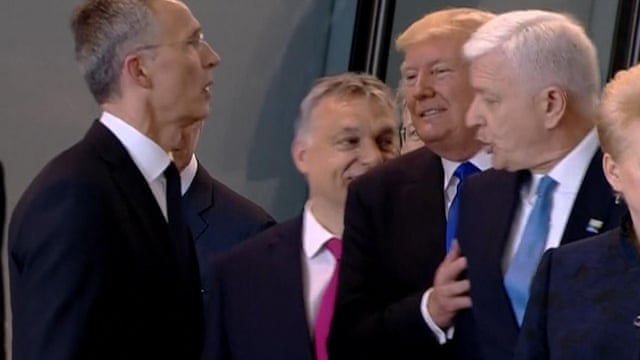 He crunched hands, shoved shoulders and struck poses. He scoffed chocolates, ignored protocol and harangued heads of state. He denied saying things he had said, then said things that showed he did not understand.
It may, mercifully, have passed off without apocalyptic mishap, but Donald Trump's first transatlantic trip as US president still left European leaders shaken.
First, there were the body language battles. Trump is well known for his efforts to dominate male interlocutors with a firm handshake, often accompanied by an arm wrench: notable victims include the Japanese prime minister Shinzo Abe, who survived a 19-second power grip in February.
In Brussels on Thursday for meetings with EU and Nato leaders, he was trumped by the French president, Emmanuel Macron, whose smile and squeeze – reporters present described "knuckles whitening" and "faces tightening" – were so fierce that Trump was forced to yield
The rematch came at Nato headquarters after lunch, when Macron pointedly embraced German chancellor Angela Merkel, and shook hands with several other heads of state, before finally turning to Trump – who jovially pulled the Frenchman's arm half out of its socket.
Merkel, Nato secretary general Jens Stoltenberg and several others responded with open, if disbelieving, laughter. The Europeans appeared even more startled when Trump shoved aside the prime minister of Montenegro, Dusko Markovic, to get to the front of the family photo.
The US president barrelled his way through the group before drawing himself up to his full height, snapping his jacket together and striking a truculent pose – prompting the writer JK Rowling to caption a tweeted GIF of the incident with the words, "You tiny, tiny, tiny little man."
For More: https://www.theguardian.com/us-news/2017/may/27/donald-trumps-europe-tour-leaves-leaders-shaken?CMP=fb_gu