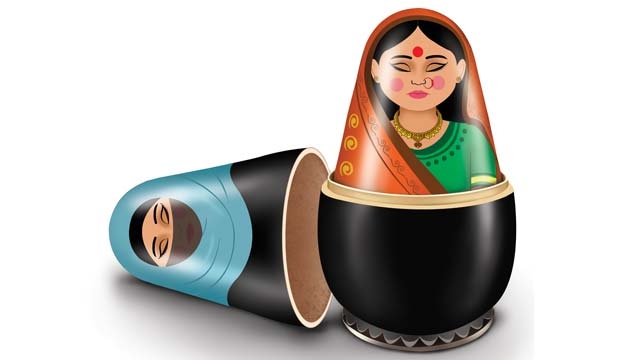 Known as the resting place of the Buddha, Kushinagar is reporting an alarming number of cases of Muslim girls being abducted and forced to convert to Hinduism. As Uttar Pradesh prepares for elections next month, Shweta Desai visits the volatile region to get the real picture of what is being called 'reverse love jihad'
She calls herself Ameesha Thakur now, a name given by her husband Arvind. Dressed in a blue and pink sari with sindoor in her hair and a shiny bindi on her forehead, she looks the archetypal obedient bahu. But all is not what it seems in the Thakur home in Chaubiya Rampur village in eastern Uttar Pradesh's Kushinagar district. Just across the lane is Ameesha's nanihal (maternal grandparent's house), where her family doesn't even acknowledge her existence. Abducted three years ago when she was just 13 and now married to a Hindu and living as one, she is not their little Zubeida Khatun any more.
"They made a public announcement in the panchayat that they will make her a Hindu. Now she is living like one, how can we accept this?'' questioned her uncle Abdullah. The reality is hard to accept for the family, which is one amongst the few Muslim families in the village. He alleges that their little girl was kidnapped by the powerful Thakur family and was forced to convert.
According to the FIR filed by Zubeida's family in 2013, Rameshwar Thakur and his sons Arvind and Nagin Thakur have been charged with kidnapping and compelling a young woman into marriage. As per the family, Rameshwar Singh's friends in the Hindu Yuva Vahini (HYV) and the right-wing Hindu group, formed by BJP MP Yogi Adityanath, engineered Zubeida's abduction.
A few months after she disappeared, Zubeida appeared before a magistrate and voluntarily accepted to marry Arvind. Her family resisted, claiming that she was under age and had been tricked by Arvind. "We tried a lot, filed police complaints, took the matter to the court, but eventually they produced false documents proving her legal age and she got married to the Hindu,'' said Abdullah. What stings even more is that the Thakurs showed their clout during a panchayat, beating drums in a procession to celebrate a Muslim girl's conversion into Hinduism. "They did this to shame us in the village,'' Abdullah added. Zubeida alias Ameesha, the girl in the proverbial centre of the storm who claims she is 21, says she got married willingly. "My family is angry because I married a Hindu,'' she says. Her abduction, she says was a 'misunderstanding'. "Every couple has some problems, we also had some. I do everything as a Hindu, pray to god, fast and live as my in-laws tell me to,'' she says, cradling her three-year-old son.
Communal fault lines
The real story lies somewhere between Abdullah's claims and Ameesha's statements. But whatever the truth is, Kushinagar seems to have become ground zero of what is being called 'reverse love jihad' — a reversal of the label BJP leaders, including Adityanath. Cases of Muslim boys getting married to Hindu girls had become a hot potato issue in politically sensitive Uttar Pradesh during the 2014 elections with Adityanath and others calling it a threat to national security. On its website, under the section 'ideology', HYV cites a write-up that says, "the journey of Islam from jihad to love jihad".
The numbers
Between 2014 and October 2016, 389 cases of underage girls missing or kidnapped were registered by the district police. Superintendent of Police Bharat Kumar Yadav says, "No parents would want their daughters to marry willingly. Sometimes these girls are underage or have no documents to prove their age, in such cases we take their statements in front of a district magistrate. Some of them voluntarily choose to marry the opposite community," Yadav added. A fact finding report of the All India Muslim Majlis-e-Mushawarat (AIMMM) on Kushinagar found dozens of cases of rapes and forced kidnappings of young Muslim girls for religious conversion. The report, submitted to Chief Minister Akhilesh Yadav in January 2016 blames 'local goons of HYV' for the atrocities against girls.
According to AIMMM President Mohammad Sulaiman, who believes all men accused of crimes have a connection with HYV and, the strong influence of HYV and backwardness of the Muslim community in the region is a major factor behind the increasing number of cases. "The Muslims here are backward and socio-economically weak. Many families where the girls were abducted either had no elder male member or their father was a migrant worker, they are helpless and vulnerable.''
Social exclusion
Almost one-fourth of the country's Muslim population lives in Uttar Pradesh. Within the state, 36 per cent of the minority community is concentrated to the east. However, in Kushinagar, which borders Gorakhpur district on the eastern end and also Bihar, the Muslim population is a mere 16 per cent. Despite the communal fault lines, the social dynamic in this part of the state has been a syncretic one — cultural and social practices in this part bordering Bihar are so syncretic that it's hard to differentiate a Muslim from a Hindu. Many Muslims share common Hindu names, women sport red bindis and even celebrate the popular Chhath festival. Yet, trivial issues like land demarcation, the size of the taziya (Muharram procession), sexual harassment and love affairs can snowball into violent communal flare-ups, revealing how volatile things actually are. Muslim families live on the periphery of villages and some are even segregated by a village wall
For More: http://www.dnaindia.com/india/report-reverse-love-jihad-surfaces-in-up-2290453