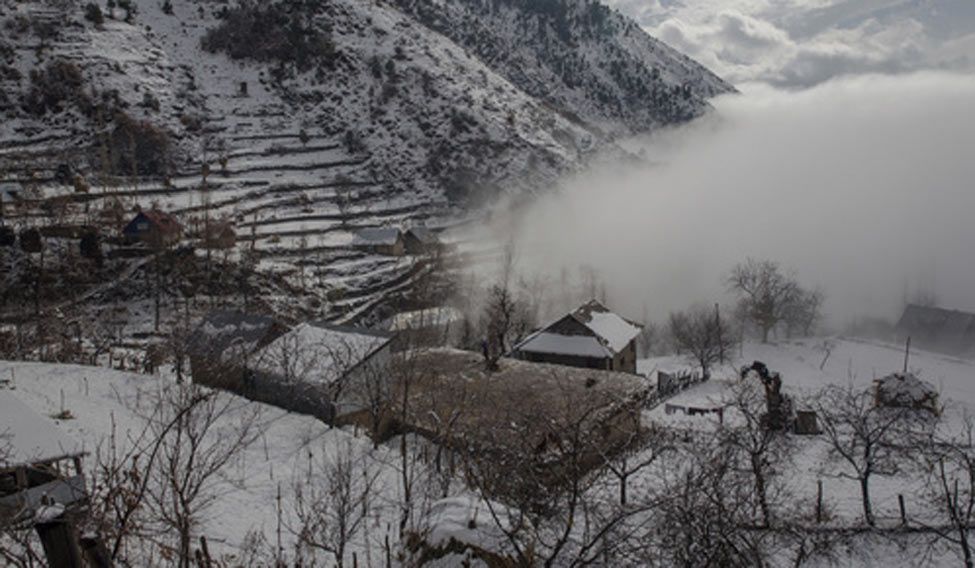 Despite snowfall, last year's separatist agitation continues to keep tourists away from Kashmir.
What has worsened the situation, according to the Kashmir Hotel and Restaurant Owners Federation(KHAROF), is the vicious campaign launched by Hindu rightwingers to discourage potential tourists in Maharashtra and Gujarat from visiting Kashmir.
"The tour operators in these two states have clearly told us that they have been warned not send any tourists to Kashmir because of the separatist movement in the state," said an official of Kashmir Hotel and Restaurant Federation said. After the 2016 uprising, triggered by the killing of Hizbul Mujahideen commander Burhan Wani and two of his associates, tourist footfalls have hit rock bottom.
"Our friends in Pune, Mumbai and other places in West India have told us they have been warned by the Hindu extremists to stop sending tourists to Kashmir," the official said." The tour operators told us the extremists said how can you provide business to Kashmiris who are burning national flags and demanding azadi."
Former president of KHAROF Javid Bashir Burza, who own several properties in Srinagar, Gulmarg, and Pahalgam, said they were aware of the campaign. "It needs political intervention by the prime minister or union tourism minister," Mir said. "Only then, we can expect some change."
Mir also blamed the state government for not doing enough to attract tourists to the state. "Around 30 lakh people are directly and indirectly linked with tourism in Kashmir, but we still don't have a full-time tourism minister," he said."This ad hoc approach will have to go."
General Secretary of Kashmir Hotel and Restaurants Association(KHARA) Tariq Mushtaq Mir said he was part of a J&K Tourism department delegation that held roadshows in major cities of India like Chennai, Kolkata, Mumbai, Ahmedabad and Pune to promote tourism in Kashmir.
"The government made an effort but it has not reflected in the increase in tourist inflow to Kashmir," Mir said.
He said it needs government intervention and encouragement as was done in the past.
"A few years back, the Central government gave subsidies on air tickets to Kashmir and they did help increase the footfalls," he said." In fact, the influx of tourists was very good in July 2016; then, it nosedived."
Mir said tour operators were recently flown to Kashmir by the state government but they were very candid that unless the perception changes about Kashmir, they cannot do much.
Houseboat owner Tariq Patloo blamed the media for the negative perception about Kashmir. "The media must stop portraying Kashmir as unsafe," he said. "I have a tourist from London who has extended his stay and now calls all his friends to tell them Kashmir is safe and they should visit."
In Gulmarg, according to sources, despite snowfall, the influx of tourist is not very encouraging. "It's is less than 30 per cent," said an hotelier. "Snow used to be a major attraction for ski and skating lovers but not this year."
The government, a few years back, provided all-terrain vehicles on subsided rates to unemployed youth to ferry tourist in the scenic resort but most of them have no work.
With Tassaduq Mufti, brother of Chief Minister Mehbooba Mufti, likely to be named as full-time tourism minister after his nomination to the Legislative Council, there is hope that the younger Mufti could focus on the challenges confronting the industry