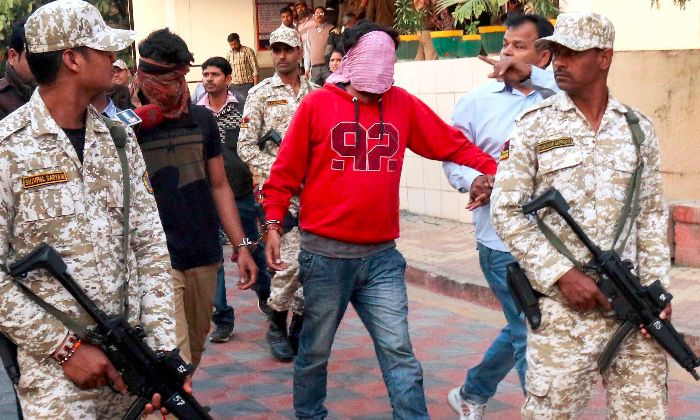 This after the opposition party in MP, the Congress claimed that one of the arrested men, Dhruv Saxena, who is said to be working with the BJP's IT Cell.
Though the party has distanced itself from Saxena, images of him attending an event with Shivraj Singh Chouhan and BJYM district head Anshul Tiwari has since gone viral
BJP's trouble doesn't end there, another arrested man, Jitender Singh, kin of a sitting BJP corporators. The Congress alleged that he is also closely associated with Union Minister Narendra Tomar and MP Minister Maya Singh.
While the party officially denies any links between the arrested men and the party, a BJP leader in the condition of anonymity told India Today that they are concerned about the ISI's possible infiltration into its ranks.
"Denying association with those arrested in public is one thing but the real problem can be gauged from the fact that one of them was holding a post in the party's IT cell and he had access to so much data and information."
The ATS had busted an international call racket used by ISI agents to spy on India's military operations. The spy ring facilitated calls from and to Afghanistan, Pakistan, Bangladesh and Nepal, bypassing legal channels
At least 40 'Simboxes' (Chinese-made gadget that holds multiple SIM cards) and 3,000 SIM cards have been seized from the suspects.
MPATS chief Sanjeev Shami, who led the operation, said that more people including those working with telecom majors are on the radar and would be behind bars
"They were running a parallel telecom exchange, enabling cross-border handlers posing as senior Army officers to call up military personnel posted in Jammu and Kashmir and dig out details of operations, deployment and installations."
Calls made through the internet were sent to these SIM-boxes which redirected the illegal VoIP traffic onto mobile networks. Those involved bypassed the interconnect toll charging points to exploit the difference between the high interconnect rates and the low retail price for on-network calls, therefore avoiding payment of the official call termination fee of an Operator
For More: http://www.indiatimes.com/news/india/bjp-leader-s-kin-alleged-it-cell-member-among-11-arrested-for-running-isi-spy-ring-in-madhya-pradesh-271308.html