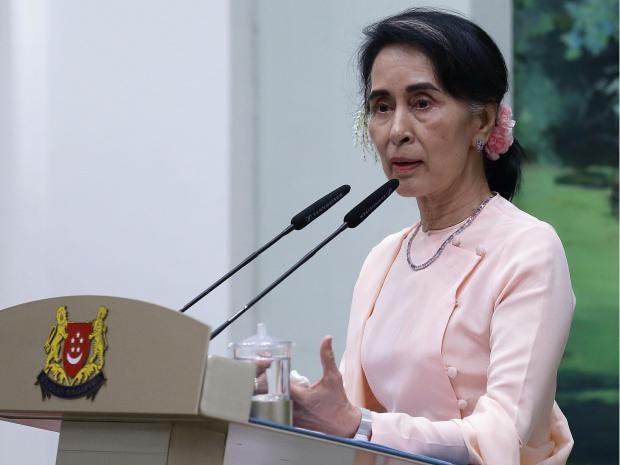 Burmese leader Aung San Suu Kyi has vowed to work towards "peace and national reconciliation" but has refused to address accusations Rohingya Muslims in her country may be the victims of crimes against humanity.
Ms Suu Kyi gave no specific details on how her government intends to resolve the violence and discrimination the long-persecuted Muslim minority face.
"We do not want our country to be unstable. But we've had a long history of disunity within our nation," she said, addressing senior business representatives in Singapore.
"So national reconciliation is unavoidably important for us. It's not a matter of choice. It's unavoidable."
She added: "We have to achieve peace and national reconciliation that our country may be able to progress, and that those who wish to invest in our country may find the right amount of confidence."
Accounts of the military having gang raped, tortured and murdered members of the Rohingya community caused thousands of angry Muslims take to the streets across Asia in protest.
Around 30,000 have fled their home in Rakhines and analysis of satellite images by Human Rights Watch found hundreds of buildings in Rohingya villages have been burned.
The Burmese government has denied allegations of abuse. Officials say the army is hunting "terrorists" behind raids on police last month.
Despite having lived in Burma for generations, Rohingya Muslims are barred from citizenship in the nation of 50 million, and instead live as some of the most oppressed people in the world.
Since communal violence broke out in 2012, more than 120,000 Rohingya have been driven from their homes and crammed into squalid camps guarded by police. There, they are denied healthcare and education, and their movements are heavily restricted.
Ms Suu Kyi was scheduled to visit Indonesia, the world's largest Muslim-majority country, after Singapore, but postponed the trip in the face of public protests and a thwarted bomb plot against the Burmese embassy.
Malaysian Prime Minister Najib Razak will take part in a rare rally at the weekend to protest the crackdown on Rohingyas, an official from his office said Tuesday.
For More: http://www.independent.co.uk/news/world/asia/aung-san-suu-kyi-burma-rohingya-muslims-crimes-against-humanity-a7447706.html?cmpid=facebook-post