The US is going to provide anti-tank weapons to Ukraine, a senior State Department official told CNN.
The State Department officially announced Friday evening that the US was going to provide Ukraine with "enhanced defensive capabilities as part of our effort to help Ukraine build its long-term defense capacity, to defend its sovereignty and territorial integrity, and to deter further aggression," but the statement from spokeswoman Heather Nauert said it was not going to give any further details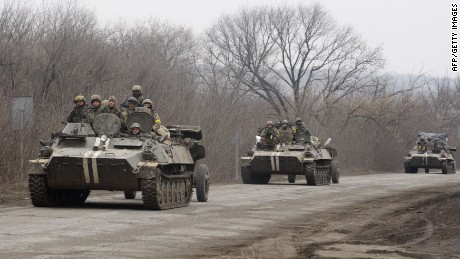 The State Department said the "US assistance is entirely defensive in nature, and as we have always said, Ukraine is a sovereign country and has a right to defend itself."
Members of Congress and the US-backed Ukrainian government had long requested anti-tank weapons to boost Kiev in its fight against Russian-backed separatists. This is another development from the US that Russia is expected to criticize. Some experts told CNN that Russia could use this move as a pretext to take further action in Ukraine, after its invasion and annexation of the Crimea region in 2014.
The move comes amid a recent uptick in clashes between Ukrainian soldiers and Russian-backed separatists, and the same week the Trump administration announced it would permit sales of some small arms to Ukraine from US manufacturers.
Secretary of State Rex Tillerson had discussed the recent escalation in clashes in a phone call Friday with Ukrainian President Petro Poroshenko, according to an official readout issued by the Ukrainian government. The statement says Poroshenko thanked Tillerson for "the prolongation of sanctions against Russia" and for "the consistent support of Washington regarding the increase of Ukraine's defense capacity."
The statement also said that "Tillerson emphasized that the US would further support Ukraine."
On Wednesday the Trump administration had announced it was allowing the export of some small arms to Ukraine. Nauert said the department notified Congress on December 13 that it had approved an export license, which allows Ukraine to buy certain light weapons and small arms from US manufacturers.
"The US government is not selling the Ukrainian government these weapons," she said. The US has not provided lethal defensive equipment to Ukraine, Nauert said, nor has it ruled out doing so.